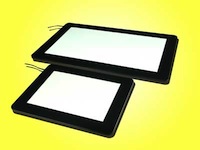 In therapy, optical stimuli are used to encourage the blind, the partially sighted, and those with multiple handicaps to engage in activities. Game-like visual exercises using a light source constitute an important part of vision training. The goals of such training include fostering mental development and improving hand-eye coordination. The better the quality of the light source and game materials used, the greater the patient's interest and motivation to give the exercises their full attention and concentration.
The format of the Lite-Scout-Pro's light area is compatible to the conventional lightbox, so that already existing learning games (e.g. Level I-III) can easily be used with LiteScout-Pro. The LiteScout-Basic version also offers a smaller luminous surface in DIN-A4-format.
In the physical sense Plastolight is a Lambert radiator and is characterized by diffuse radiation. The light area of radiates a homogenous, non-dazzling and flicker-free cold light with intense color rendering.
In addition to its optical characteristics and infinitely adjustable levels of brightness, LiteScout offers magnetic attributes. By using magnetic learning aids attention spans and learning success will be profoundly raised. Research has shown that children spend much more time playing with magnetic items than with non-magnetic ones.
The LiteScout is a light-up magnetic board that provides a sturdy and portable alternative to the lightbox, and it is available in two different sizes. The "Pro" version is designed primarily for use in mobile early development programs and in schools. We also offer the smaller "Basic" version, which was designed primarily for home use. The only difference between the two models is their size. All other product characteristics, such as light emissions and magnetism, are identical.